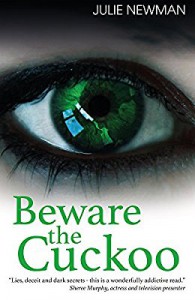 Published by: Urbane Publications (18th May 2017)
ISBN: 978-1911129912
Source: NetGalley
Rating: 4*
Synopsis:
Two women. One man. A buried secret.
They were reunited at his funeral, school friends with a shared past. A past that is anything but straightforward. A past that harbours secrets and untruths.
Karen has a seemingly perfect life. An adoring husband, two wonderful children and a beautiful home. She has all she has ever wanted, living the dream. She also has a secret.
Sandra's once perfect life is rapidly unravelling. The man who meant everything to her had a dark side and her business is failing. To get her life back on track she needs to reclaim what is rightfully hers. She knows the secret.
As the past meets the present, truths are revealed - and both women understand the true cost of betrayal.
Review:
With Beware the Cuckoo, Julie Newman has written a powerful debut centered around a sensitive subject matter. At times, this made for very uncomfortable reading. If you're the parent of a teenage girl, this book will certainly make you worry about what could happen right under your nose.
I like how the story is told in both present day and past tense, so we learn the story of Karen and Sandra's friendship from the beginning and the end at the same time. I found some parts of the story quite compelling, and others I managed to guess before they happened, hence just missing out on the 5* review. I was intrigued by the title of this book and not really sure what to expect, but I'm glad I decided to read it, it's really worth it. I recommend it to readers of psychological thrillers, crime and harder hitting women's fiction.
Thanks to Matthew Smith at Urbane Publications, Julie Newman and NetGalley for the ARC in return for my honest review.